I have often wondered why we don't have autocorrect on computers like we do on phones. It's not that I particularly desire this feature, you understand, but I do wonder at the lack.
Autocorrects are not always helpful, and they can be pretty funny. There are many examples online. Some seem to be contrived but who knows? Of course, the majority seem to involve bathroom or sexual humour, and they tend to be the funniest, but here's a pretty innocuous one for the pure amongst you all.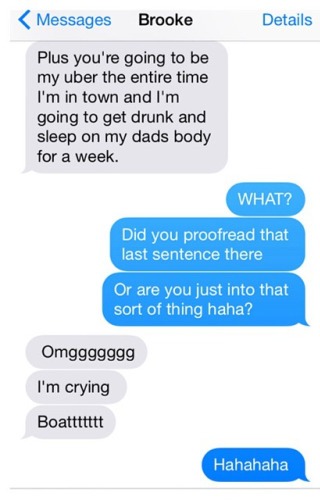 Although we may be suspicious of the authenticity of some of the examples that we see online, this really does happen. Like the time I texted Shauna that I was taking
Rona Ice Time
for a backache. I had been trying to type
Robaxacet
.
Or take my neighbour who texted his wife about being
bone donkey
at work. He had been trying to write something about
boredom
, but it came out as
bone donkey
. Try as he might with various keystroke combinations, he could never replicate that autocorrect and doesn't know what keystrokes he must have hit.
Although I am not pining for the implementation of autocorrect on computers, I still wonder why we don't have it.
I do notice, however, that realtime spell checking is getting very good. Almost every time that I click on a word with a red squiggly, I am presented with the correct choice, so a simple click or two almost always fixes the typo now. It seems to me that it has not been so accurate in the not-too-distant past.
This is in the
Chrome
browser, but I must assume that they are all getting better.
Chrome
is even making more and better grammar suggestions. I am not a very proficient keyboarder and often reverse my letters, but the checker will often sense the context and highlight with a green squiggly a word such as
form
where
from
would fit much better. That is pretty good artificial intelligence.