Green or White? We'll know in a few days.
The table below reveals that there have been five Green Christmases in the past 25 years: two since we arrived here in 2005.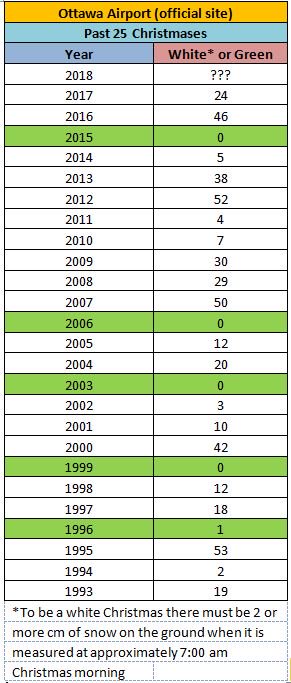 2015 was definitely Green; we even took the kids to the park as a bit of a lark.
I'm not sure that I would call 2006 Green, however, as my memory tells me that at least snowed to some degree during the day. But it did fit the definition because there were fewer than 2cm (approx 1in) on the ground at 7AM. I think I recall the rest of the winter becoming very wintry indeed.
I found some proof of Christmas Day snow that year because I took this photo of our backyard on the day after.
Looking through old photos, I was also reminded that the Holiday Train stopped here in 2006. Little did we know that was to be the final year as the local track fell into disuse and was later removed.
(I am also very pleased to report that it was the last Christmas sans grandchildren.)
The lighted train would pull into the town and open its doors for a short musical performance and a visit from Santa. It was quite delightful. It still rolls through Canada and even stops at some nearby towns.