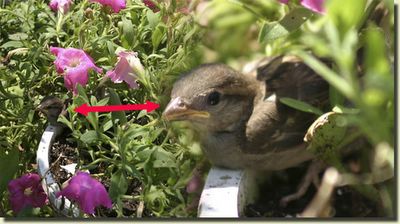 The day's big news is that the sparrows about which I have been posting have spread their wings. Or at least two out of three have.
Out of the corner of her eye, Cuppa happened to spot the first one fly about six feet and land in a pot of petunias at ground level. Above, there are two blended views: one further and one closer.
We missed the departure of babybird2, but #3 is still in the nest. At least s/he no longer has to compete directly for food and should soon become strong enough to fly off as well. I don't know where exactly the other two have gone but not far according to the chirping that I hear out there.
Below, is a recent photo of feeding in action. The parent has its beak deep into the kid's mouth. Those little critters are almost all mouth at first.