Last night, the competition started in earnest. It seems to my untutored ear to be a very strong top ten, and, unlike last year when Kaylan seemed to be a shoe-in from the get-go, I can't yet begin to predict the eventual winner.

However, I do think that the above five (with some apologies to Suzi, but I really wanted to make it five and not six) seemed to be stronger than the other five last night. That could change dramatically in future weeks because I think there is talent all of the way through, but some simply did better than others last night. So far, based on his performance in both the top thirty-two and now in week one of the top ten, I have to say that Rex may be my candidate of choice. He sings with joy and a contagious spirit. He's a small-town, Canadian boy who is having an absolute blast in Toronto. The judges, with good reason, love Amber, but she may not have enough charisma to carry the day.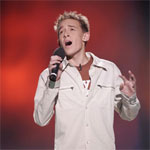 So, who's going to leave the show tonight? I think that it might be Daryl. I wasn't all that impressed with him in the round of 32, but he won his somewhat weak group regardless, so what do I know?
To me the biggest surprise of the night was Josh. I didn't much care for his somewhat eccentric style in the earlier round, but he certainly won me over with his rendition of Leonard Cohen's Hallelujah last night.
---
Update: I was almost correct by picking Daryl to go but not quite. He was in the bottom two. Surprisingly to me, Emily, was the one to go. While she didn't make my top five, I thought that she'd be safe for a few weeks and that she might even step it up and last longer. Melissa was also in the bottom three. That was weird.